The Accurate Reviews experts have chosen 4 software that make it easy and free to manage customer reviews. Find out what they are.
HOW TO MANAGE CUSTOMER REVIEWS FOR FREE?
Knowing how to manage the reviews that customers leave on websites and other platforms is definitely important because it allows you to give more visibility to your products/services and, as a result, to increase sales. This process is not always easy because customer feedback is found on different online portals therefore you would need to collect it and put it in one place. How to do this? By relying on a review management software, even better if it is free.
Below you will find 4 free programs:
WOMPLY
Womply is a cloud-based reputation management solution that enables small businesses to streamline processes related to email marketing, customer relations, payment processing and more. Administrators can use the platform to compare performance or revenue metrics against competitors to aid decision making. The solution allows companies to build their reputation on online platforms such as Google, Facebook, Yelp and others, track reviews, solicit customer feedback via text message or email, and automate processes for responding to reviews. It allows users to monitor customer interactions, create and update profiles, add banking details, conduct surveys, and communicate via messaging. In addition, managers can evaluate customer lists with details such as name, contact information or spending history and gain visibility into various business metrics.
WOMPLY – TUTORIAL
Read the full review of Womply
JUSTREVIEW
JustReview is a review management software that, thanks to powerful widgets, allows you to add reviews to your website in just a few clicks. This program allows you to collect all customer reviews and testimonials and place them on your site or ecommerce so that everyone can read them. JustReview alerts you via a notification whenever someone posts a review and proceeds by transferring it directly to your site. This way potential customers, reading the positive reviews left by other users, will become customers increasing your online sales.
JUST REVIEW – TUTORIAL
Read the full review of JustReview
TRULISPOT
Trulispot is a review management software that targets businesses of all sizes that want to strengthen their online presence by building trusted relationships with their customers. Authentic customer feedback helps improve the user experience, increase conversions and sales, and create a trusted brand that wins the trust of current customers and attracts new ones.
In addition, Trulispot can be integrated with the tools you use every day such as Wix, Shopify, Zapier, BigCommerce, WooCommerce, Square, Zendesk, and others.
TRULISPOT – TUTORIAL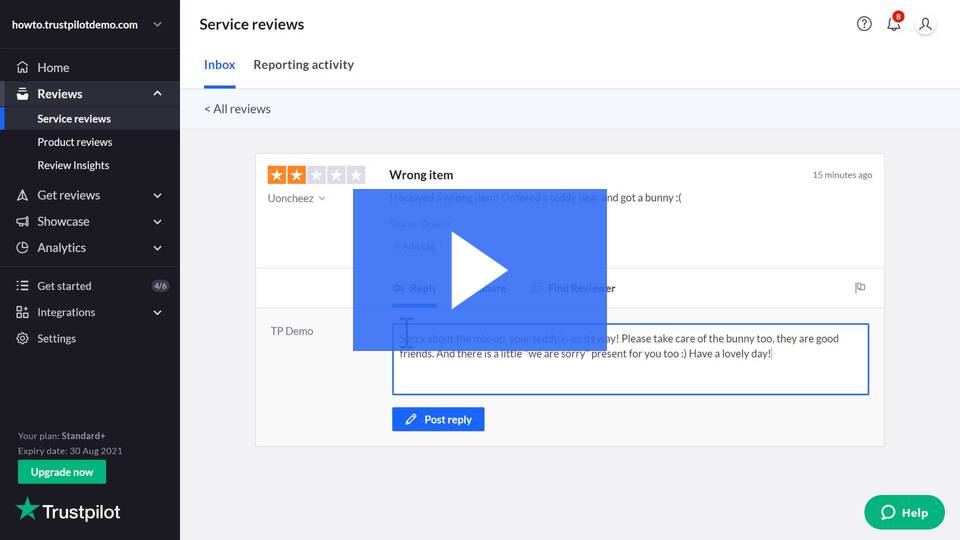 Read the full review of Trulispot
REVIEWFLOWZ
ReviewFlowz è un software di gestione e monitoraggio delle recensioni che collega la tua azienda e il tuo team ai feedback lasciati dai clienti. Accedendo a una dashboard intuitiva e semplice da usare, a seconda del filtro scelto, potrai visualizzare e analizzare tutte le recensioni, passate, presenti e future, la loro valutazione in stelle, le parole chiave che più ti interessano e molto altro ancora.
Grazie a ReviewFlowz, multipiattaforma per la gestione delle recensioni, il tuo sito web sembrerà molto più professionale e affidabile.
REVIEWFLOWZ – TUTORIAL
Read the full review of ReviewFlowz
You may also be interested in: The best 5 review management software